Sarah Fisher
Indy Racing League Driver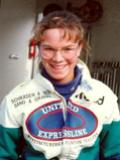 With her mother and father both having racing backgrounds, they started Sarah racing at the age of five in quarter midgets. She competed there for three years while her father, Dave, competed in the open wheel sprint car ranks. Mainly racing in Columbus, Ohio, Sarah and Dave split winters and summers between the two racing schedules. "We raced Sarah only during the winter months, indoors on very small tracks," said Sarahís father Dave. "This worked out well for both of us since we were racing as a family year round, but at the same time, didnít overshadow Sarah." Starting in a junior novice class, Sarah won many races and held the Columbus Indoor track record.
When Sarah reached the age of eight, her father started her racing go-karts at a small dirt oval in Adams County, Ohio. This was where the competitive drive started to stir. 1991 was very successful for Sarah as she won her first Grand National Championship in Batavia, NY. "I remember helping put the trophies out and thinking that I was going to get one no matter what. They were so big! After I won the race, my parents bought me a television for my bedroom. Iíve had that T.V. ever since!" This was the start of many years racing all over the country.
The next couple of years competing with the World Karting Association proved to be just as successful as she won the 1991, 1992 and 1994 Grand National Championships and the 1992 Points Championship. But as always, win some loose some. Go-karts at all these different tracks taught Sarah the basis of racing Ė passing, basic car set-ups, maintaining race cars. "Go-karts are a great place to start for anyone. To this day, I have a 125cc shifter kart that I bring out on the long weekends between races to keep my timing up." These and more were all attributes that Sarah would apply throughout her entire racing career.
In 1994, Enduro go-karts were introduced to Sarah. With Dave backing her every move, they competed at tracks such as Daytona, Elkart Lake, Gratten, Road Atlanta and many others. This lay-down style of go-karts taught Sarah about endurance, patience and reinforced smoothness.
At the end of 1995, Sarah took a leap towards her future as her father invested in a sprint car. She started off with a 360 cubic inch motor racing 8 races with the Outlaw Bandit series. The next February 1996, the big move was made to the 410 cubic inch sprint cars that are run by the famed Steve Kinser and Dave Blaney. "The step from the 360ís to the 410ís was a much bigger step then the one from go-karts to sprint cars. 410ís have an unbelievable amount of power that you somehow have to transfer to the track." Dave and Sarah raced local venues with some travel with the All Stars Circuit of Champions during 1996.
1997 proved to be the hardest year ever for the Fisher duo. "There is much more to racing than just driving the car," says Dave. "The 1997 season made us both aware of the hard work and commitment involved in such a schedule." By their selves, Dave and Sarah traveled the 60-race All Star schedule. This experience proved to be one of the most valuable yet. The schedule was tough with only the two of them to get from one race to the next. To make it all happen, Sarah learned how to take care of the car herself, drive the truck and trailer and drive as well. "My favorite memory was when I was pulling an engine out and Grandpa Fisher came back to see what I was doing. Dad was working on a project in the work shop and I was in the race shop by myself. The look on my Grandpaís face was priceless. People just couldnít believe that I could do it on my own!"
At the beginning of the 1998 season, Dave broke his arm, keeping him from rebuilding the two engines they had to go racing on. "It was either rebuild the engines myself or not go racing!" With the guidance of Dave, Sarah rebuilt both engines and readied the racecar for their annual trip to Florida Speedweeks. This last year in Sprint cars, they didnít race as much as the previous year. Dave quotes "For her final year in Sprints, I felt it was necessary for her to race against the very best Sprint drivers at the biggest events. It was more quality then quantity. She had to dig deep to compete."
But, they managed to compete in 40 races including the Knoxville Nationals, the Historical Big One and the Kings Royal, along with other World of Outlaw races. By the end of the year, Sarah showed that she had gained the techniques of sprint car racing and needed to move on. That was when Dave and Sarah went to watch the three divisions of asphalt that were similar to what they had been doing. Sprint Cars, Silver Crown, and Midgets were the choices they looked at. After watching a few races, midgets proved to be the most competitive. That was the series they chose.
"Sprint cars were definitely the car that taught me to drive, but in order to move up, a driver needs to compete in an asphalt series with cars similar to midgets."
Trying to gain as much experience as possible, Sarah ran all three series of midgets Ė ARCA, NAMARS and USAC Ė to compile 23 races in the Midwest. Coming away with two track records (including one at Winchester) and 5 midget feature wins, it looked like asphalt was the future destination. At the end of the season, Sarah got the chance to prove her talents in an Indy Car at Texas Motor Speedway.
At the same time, Derrick Walker was considering starting up a team in the Indy Racing League. He contacted Sarah before the Texas race to see what she thought about joining his team. "When I got the call from Derrick, it was definitely a dream come true. Unbelievable still to this day." They signed in January 2000. "It was hard for both of us," said Reba (about Sarah driving for Derrick and moving out). "She was moving on in her racing career. Both her and Dave had worked together all these years and not only were we losing our driver, but our daughter as well. Sarah wanted to move to Indianapolis to be near the team. We supported her decision, but it wasnít easy at first."
Driving for Walker Racing, Sarah competed in 8 of the 9 races in the Indy Racing Northern Light Series. The first race of the season, Walt Disney World Speedway, was the only race missed. The teamís first race together was Phoenix on March 19th. They came away with a 13th place finish after struggling with both the chassis and the engine. The next race at Las Vegas Motor Speedway was the last learning curve before the Indianapolis 500. With only 2 races, driving for Walker Racing, it was off to the big one. "The month of May is absolutely mind boggling. The amount of tradition that surrounds that track is great and to have been a part of that at only 19 years old is wonderful. I donít think I enjoyed the month as much as I can this coming year. My parents were even stressed out. I was glad when the Sunday after qualifications was over. Everyone, including Derrick, knew that I was in. But, there was always that unknown chance that I thought existed. We know what kind of reception we will receive and I will be better prepared for that. I want to be able to stand there and look around and take in more of the prestige of competing in the greatest race in the world."
The month was great up till lap 71, where Sarah was pinched between two cars going into turn one. "It was all I could do to hold my line. I wasnít being overly aggressive at all. When racing, in general, the drivers know who is surrounding them and who to trust. I had never raced with the lap car on the outside of me and with the car on the inside appearing at the last minute, I had nowhere to go. So, it bit me! The lap car came down on me. Iíll know better for next time. Big deal at the time, but not now. There are bigger and better things coming down the line that I need to worry about."
The next two races proved to be more learning curves for Sarah. The first race at Texas Motor Speedway went well, other then a spark plug failure that ended Sarahís close racing with the lead pack. "We were a new team and to be racing in the front was starting to show that we were gelling." The race at Atlanta Motor Speedway started to prove that Walker Racing and Sarah Fisher belong in the IRLNS. Without even testing there and seeing the track for the first time race weekend, the Walker Racing team was in the top five all weekend.
"I could see confidence starting to build within the team," said Dave. "Sarah and Rob Edwards (Team Manager and Engineer) were starting to communicate very well both on and off the track."
However, the race that turned the year around was at Kentucky Motor Speedway August 27th. There was an open test there that Walker Racing had attended. The team had only had three tests throughout the year proving that testing is extremely important in obtaining a fast racecar. They finished the highest of the season, 3rd, the first podium of the year for Walker Racing. "It was great! We were fast all weekend. I was excited all weekend and for the first time this year, I enjoyed every minute. The podium scene was the single most enjoyable time this year. It was a little embarrassing with the champagne bottle, but the fact that I was there topped it all. The neatest part was that Derrick (Walker) had fished his way though the Hemelgarn crowd (Buddy Lazier won the race) after running down from the spotterís tower to give me a congratulatory hug. What an exciting day!"
Walker Racing and Sarah Fisher plan on competing in all the 2001 Indy Racing Northern Light Series races together. "This team is my second family. Especially Rob Edwards (Team Manager), Ron Catt (Chief Mechanic), Derrick (Walker) and Tove (Walker). Spending time in the shop daily and really caring for what my guys do has been an integral part in our bonding. Communication is very important to a race team. We communicate very well and together, are ready to be a strong force in the 2001 season."