Corporate Sponsorship Opportunities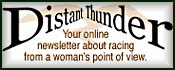 Corporate Sponsorship Opportunities
Meet your corporate advertising, marketing, and communications objectives

The Marketing Concept / Leveraging Your Sponsorship

As your company creates its marketing strategy for the coming year, we invite you to consider opportunities built around women race car drivers. The fast growing female audience base for racing coincides with the growing number of female financial decision makers. A woman race car driver can reach and influence female consumers most effectively.

Sponsor loyalty from fans of auto racing is the highest of any sport. Women fans, with few race heroes of their own, are actively seeking companies on which to bestow that loyalty.

Thunder Valley Racing, working with experienced and competitive race teams and women drivers, can provide a turn-key racing opportunity for your company. We will be pleased to work closely with you to implement marketing and communications strategies, design and execute trackside promotion and hospitality programs, and support existing communications programs.

Messages from a woman driver cut through the clutter.

Nearly half of all race fans identify with women drivers and are waiting to hear and act on your advertising messages.
Women make up nearly half the auto racing audience, both on television and trackside.
Auto racing fans are extremely sponsor-loyal.
Race drivers are strongly identified with their sponsors.
Very little racing-related advertising is directed to women.
Free media, including television and newspaper sports coverage, will flow to your driver and your company.
An American sporting tradition is to root for (and highlight) the long shot, including female competitors in a male-dominated sport.
Association with an active woman will enhance your corporate image.
Women in athletics is a cause for which support is appreciated well beyond the fans of that sport.
Promotions increase market penetration
Create tools for regional managers, distributors, and consumer sales outlets. Conduct trackside driver autograph sessions and promotions. Tie-in with point-of-purchase promotions and tailor direct marketing initiatives, etc.
Hospitality builds staff, key customer, and VIP relationships
Provide a unique and exciting experience that involves the female members of your team as well as the spouses and families of all your V.I.P.'s. You can build company loyalty by making your employees members of the company's racing team.
Product advertising increases nation-wide market share
Turn women race fans into fiercely loyal consumers of your products or services. The television, newspaper, and racing magazine coverage will expose corporate logos to customers actively looking for companies on which to bestow loyalty.
Image advertising improves corporate positioning
Reach and influence a broad audience of active consumers, especially women, well beyond the audience for auto racing. Your company, as a proud sponsor of a woman race car driver, can create print ads that will be appreciated by all female decision makers.
---
If you'd like to explore these and other options,
email us at marketing@thunval.com,
fax us at (847)475-5429,
or call us at (847)475-1265
We look forward to working with you.