Corporate Sponsorship Opportunities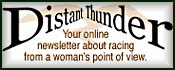 Lea Croteau
SCCA National Driver

Lea Croteau (fka Bartlett) has been racing since 1995, although her passion for motorsports and things automotive are a lifelong theme. Her rookie year racing, she was runner up in the Mid-Atlantic Road Racing Championship with 4 podium finishes. Switching to national level competition in 1996, her success continued resulting in 18 top five finishes with 10 on the podium. Her record earned her annual invitations to SCCA's Valvoline Championship Runoffs, where only the top competitors from each division are asked to participate in the championship challenge. Also a regular contender in the Neon Challenge Series, Lea finished 1999 5th in the championship - her best ever.

A big fan of endurance racing, Lea has co-driven a Spec Racer Ford in the "Longest Night 24 Hour" race held New Year's weekend at Moroso Motorsports Park in Florida both in 1999/2000 and 2000/2001. With KML Racing and Motion Dynamics providing the cars, support and strategy, the1999 all-women's team vied for third spot during the event's torrential downpour. The 2000 team bought the car home to a 5th in class finish and 13th overall. Lea has her sights on racing SCCA nationals in the SRF class in 2001 with Motion Dynamics.

A seasoned driving and racing instructor, most of Lea's time is spent helping companies introduce new products to consumers, sales professionals and the media. She got her start almost ten years ago in Audi's Quattro Club and quickly progressed to the instructing ranks at Summit Point Raceway teaching everything from safety programs to tactical vehicle interception. Building on that knowledge and experience, Lea is currently working at the Bridgestone Winter Driving School in Steamboat Springs, Colorado.

share her passion for speed..."

On the CART, formerly known as PPG Pace Car Team for three years, Lea gained valuable track and performance car experience providing pacing speeds and safety assessment for the CART, Indy Lights, Toyota Atlantic and USAC Silver Crown series. Giving hot laps in one-of-a-kind performance sportscars allowed her to share her passion for speed with track guests and media from around the globe.

Ultimately, Lea wants to carry her enthusiasm for competition and winning to a professional race team competing in series such as the Speedvision Cup, Motorola Cup and the American Le Mans Series with a final goal to compete in both the 12 Hours of Sebring and 24 Hours of Daytona. She has recently driven a few open-wheel cars and has a desire to gain more experience with this newfound platform. Born in Mildenhall, Great Britain, Lea also hopes to compete in front of her family at Snetterton or Silverstone in England.