ThunderValley's
Driver of the Month for September 1996

Terry MacDonald-Cadieux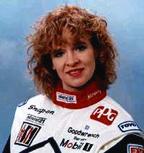 Terry MacDonald-Cadieux is a rising race car driver, now in her sixth year of competitive racing. In 1996 she is concentrating her efforts in IMSA's Street Stock Endurance Series, driving a Pontiac Formula V8 Firebird for American Motorsports.
Still one of the few female drivers, she is turning heads as she charges toward the front. During the 1995 season, her team missed the championship by a mere 37 points, finishing 2nd. Terry placed 4th in driver points.
1994 was a good year as Terry made history in Canada, becoming the highest ranking female in ASN Canada FIA Professional Road Racing history, capturing two second place podium finishes. As a result of the good finishes, her team took home third place in the championship, while Terry placed 5th in drivers points and won the "Most Improved Driver of the Year" award.
During her first year competing in the Canadian Firestone Firehawk series, she was also bestowed the prestigious "Rookie of the Year" award. Terry is a well-spoken lady, who is highly respected among her male racing and business peers.
Terry did public relations work for PPG Industries and was a member of the PPG Pace Car Team. With a B.S. in International Business, an A.A. in Marketing and close to an MBA, Terry is well trained. From 1990 to 1993 she demonstrated her business and marketing abilities along with her leadership skills by marketing nine pharmaceutical products and Slim-Fast throughout Canada.
Since 1994, Terry has conducted over 100 Women's Car Clinics at GM Goodwrench dealerships as a part of her sponsorship involvement. During the 2.5 hour seminars, Terry discusses why proper vehicle maintenance is so important, ABS brakes, tire wear, the workings of an engine, and safety tips. She demonstrates how to change a flat tire and gives a tour under the vehicle's hood and chassis.
Her interest in writing and automobiles has secured her a free-lance position with some local newspapers and national magazines. Terry is one of four women who belong to AJAC (Automobile Journalists Association of Canada).
Since 1993, Terry has helped instruct "Ride and Drive" programs, demonstrating various aspects of new vehicles prior to their public launches.
Terry began teaching at Powell's High Performance Driving school in 1996. Working with students who want to become race car drivers or people who just want to driver better. The school operates at Mosport International Raceway in Ontario, Canada.
In 1995 Terry launched her own Video presentation, titled "Terry's CRASH COURSE". This one hour video, targeted to women, discusses topics such as what's under that hood, how to change a tire, what to do in an emergency, how not to become vulnerable, and why oil is as important to your car as gasoline.
In 1996, as always, Terry produces all her team's media and public relations material. Terry is responsible for sponsorship seeking, proposal writing and meetings. She co-ordinates and distributes press kits for each race. With Terry's promotional background, she is able to capture the media's attention and produce positive exposure. She works hard on marketing herself, race team and sponsors.

Racing images of Terry

Distant Thunder