ThunderValley's
Driver of the Month for October 1996

Suzi Blume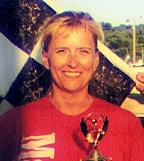 Suzi Blume drives at the Crawford County Speedway in Denison, Iowa. The Speedway is a half mile track that claims to be the fastest dirt track in the area.
Suzi has done mud drag racing, sand drag racing, demolition derbies, figure 8 racing (It is what it sounds like it is!) and stock car oval racing. She has driven in about 20 powder puff events but, when she gets the chance, races in fields made up of male drivers.
This 37 year old secretary at the Crawford County Sheriff's Office (She worked her way up from jailer, to assistant chief jailer, to secretary) has been around cars since her high school days when she'd help her dad fix the family vehicles. Her latest success was a win in a powder puff figure 8 race at the Speedway.
She began her racing career in 1987, when her husband built his first stock car. Suzi was right there with him, tweaking on the motor, ripping out the interior, etc. Most of the time she crewed for him, but got to drive against the guys several times.
Her earliest experiences were of being spun out by spiteful male drivers trying to get her off the track. As she gained more track time, she learned to avoid the bumping or to correct the drift when she did get bumped.
Her first powder puff event netted her a third place. She says she managed a wonderful spin out coming off turn four, but was able to get right back in the hunt. In her second powder puff event, she won going away. Starting from the back of the field, she was in first place after a couple of laps and never was headed.
In her third event, she beat herself! She again started in the back of the pack and was having just awesome fun weaving through traffic to the front. She was leading by the end of the first lap and she stayed in front until the last lap. She got complacent and eased off the throttle, only to be passed for the win in turn four. Suzi's husband has several of her powder puff races on tape, and she likes to review them to see her mistakes and to relive the experience
Money has always been a problem for this racing team. Sponsors have been few and far between. The new promoter at the Speedway is running by NASCAR sanctions, which is a mixed blessing. He won't be changing the rules during the middle of the season, but he has raised the entry fees. As a result, Suzi may not be able to run this coming year. She may have to wait, but is determined to drive again.
Suzi watches all types of racing on television, but enjoys NASCAR the most. (She's a Dale Earnhardt fan.) She's an outdoors type person who also enjoys camping, fishing, swimming, golf, and tennis.

Racing images of Suzi

Distant Thunder