ThunderValley's
Driver of the Month for November 1996

Sarah Kavanagh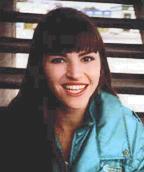 Born in Warwickshire, England, in 1973 and raised in Jamaica and Ireland, Sarah Kavanagh has struggled to raise herself through the ranks of the male dominated sport of motor racing. While at college Sarah began to attend motor races, including The 24 Hours of Le Mans. The bug had bitten and she decided to concentrate on a career in racing.
Sarah began in karting, but was eager to graduate to more powerful cars as she knew that she was a relatively late starter. Her first single seater racing car was a Formula Ford, in which she raced, with success, in local and National championships in 1992.
In 1994 she got her first taste of `slicks and wings' in the Formula Opel Championship. Sarah was acknowledged by all as a star in the making. In 1995 Sarah concentrated on learning British road courses and drove for the championship-winning SuperMarketing Racing Team.
In 1996, Sarah continued her steep learning curve by joining the British Formula Two Championship competition. Sarah drives a 500 horsepower, 190 mph Reynard Cosworth. She is the sole female representative on the grid of the Formula Two championship and put in a string of performances that have brought her much recognition.
If all goes according to plan, Sarah will race in British Formula Two for a second season in 1997. She then hopes to move to International Formula 3000 in 1998. Her penultimate goal is a test contract with a Formula One team in 1999. After that, she'd like to join Desire Wilson in the ranks of women race car drivers to win Formula One Grand Prix races.
Sarah lives in mostly in Oxfordshire to be near Silverstone, but has a house in Dublin as well. Her favorite shops are Harvey Nichols London, all the shops in New York's Greenwich Village and Temple Bar Dublin. She can be enticed off a rigorous training table with good Italian coffee, pasta, pesto, gnocchi, in fact, almost any Italian culinary treat.

Racing images of Sarah

Distant Thunder