ThunderValley's
Driver of the Month for August 1996

Kat Teasdale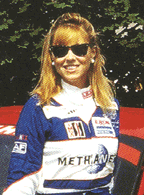 Thirteen years ago, a skiing accident ended Kathryn Teasdale's hopes of a downhill skiing career. What at the time seemed like an incredibly traumatic experience, opened a door to her future. She is now a professional race car driver, racing for the Pontiac factory team in the International Motor Sports Association (IMSA) Street Stock Endurance Championship. She's 29 years old, single, has dual U.S./Canadian citizenship and currently lives in Toronto, Ontario.
When she first started racing, in 1988, she was given 'Kat' as a nickname and carries it to this day. At that time, she competed in Formula 2000 cars hoping to run in the Export "A" Formula 2000 Championship in Canada. Before long she was competing in the prestigious Player's G.M. Motorsports Series for "F" cars, IROC-2 and TransAm.
During her years in the Players series, she was given a test and raced for the next two seasons with the Corvette Bakerracing Team, which opened new doors, expanded her racing horizons and built her driving resume and strengths. Throughout the first five years of her racing career, she owned her own team which contended such championships as the CASC Grand Sports and Special GT divisions, and she has won 150 races to date.
The 1991 Corvette program gave her the opportunity to do an Indy Lights test with Brian Stewart, of the then Landford Racing team. The team, now called Brian Stewart Racing, has run drivers such as Paul Tracy, Brian Herta, and Adrian Fernandez. Although she would run no Indy Lights with the Lanford Team during this time, Brian did field her in the Players/Toyota Atlantic race at the Indy Vancouver. Kat is, to this day, still the only women to have ever competed in this series. The next year yielded two Indy Lights races, and a look to the championship in 1993.
The 1993 season did not produce a season of open wheeled racing in Indy Lights, but one in full fendered stock cars in the Canadian version of the ASA, called CASCAR. Kat had barely ever watched stock car racing on television before entering the series. So, coming out of that year with the Rookie-of-the-Year Hard Charger Award was quite remarkable!
The next season was spent getting back to her road racing roots. January 1994 saw her head to Florida for the Rolex 24 Hours of Daytona. She ran with both a Porsche Team, which finished the race, as well as with an all Women's Team.
During the 12 Hours of Sebring event schedule, she was given a test by the Pontiac Factory Team, which lead to the production of a "cousin" Factory car and a ride for the remainder of 1994, with Burnie Cochran. As a result of the 1994 year, she earned a ride with the Factory Pontiac Team for 1995 and she currently races with them. During these years, she continued to race in Canada with Phil Strudwick's F-car Endurance and is once again racing for them in 1996 as they become the Canadian Pontiac Factory Team.
In 1995 her team brought home the championship for Pontiac, contributed to the manufacturer's cup and produced the champion, second, and tied-third place drivers, of which Kat was one with her co-driver, Doug Goad, the former Firehawk Champion. Andy Pilgrim, with whom she now co-drives, was the champion and his co-driver, Joe Varde, placed second.
Racing and motorsports have, to Kat, become, as they are to many, a way of life. She is looking to move up through the ladder of NASCAR racing in the next few years until she reaches the pinnacle of success, the Winston Cup series. When she makes it, it will be because of the hard work, courage, and discipline that she displays whenever she gets behind the wheel of a race car.

Racing images of Kat

Distant Thunder