ThunderValley's
Driver of the Month for May 1996

Jennifer Tumminelli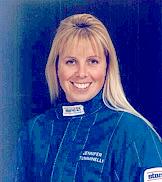 Jennifer Tumminelli, of Northern California, has had a passion for automobile racing since she was nine years old. Finally, two years ago, at the age of twenty eight, she got her chance to drive a competitive race car.
She had earned that chance by crewing for her father in the Pacific Coast Road Racing Championship series and in the Pro Star Formula Mazda series. She changed gearboxes, wrenched race cars, and helped with set-ups. She was in the thick of it as the team won back-to-back championship titles in '93 and '94.
SLUGGO
In 1994, Jennifer's father pulled his stock Porsche 914-6 out from the cobwebs. Jennifer got behind the wheel and won her very first autocross. With her father's coaching and his purchase for her of a modified Porsche 914-6 2.7, she took the pole and finished first in her class at her very first wheel-to-wheel race. She named that Porsche `SLUGGO' in honor of her father's old Porsche race car.
Jennifer went on to take second in her first Enduro and continually surprised the competition with her aggressive, no-fear driving style. She quickly became recognized as a top contender by her male competitors and is a favorite among the fans. During 1996 she will continue to campaign her Porsche across the West Coast, gaining valuable experience and seat time.
Next Year
In 1997, she will join a Pro Star Formula Mazda Team - Apache Motorsports - located at Sears Point Raceway. Having obtained full sponsorship, she will run in the Formula Mazda series, which consists of twelve races (running with IRL, IMSA and Nascar) with six televised races to be aired on ESPN2 (race schedule to be published shortly).
Also actively in the works for 1997 is co-driving in the IMSA Daytona 24 hours driving a Porsche.
In March 1997, she will return to KOOL's Toyota Atlantic Team, World Speed Motorsports, as Public Relations Director for their driver, Chuck West, as he goes for the championship.
In 1996, Jennifer represented Chuck and the team in their selected 5 races. With her PR campaign efforts, Chuck was seen in several ESPN2, CTV, RDS & KOFY Television interviews. Chuck was featured in Indycar Magazine, ESPN2 "Laguna Seca - in car camera", a number of issues of On-Track magazine. The team supports several charitable organizations, including their continual representation on behalf of the Leukemia Society of America.
Jennifer is a single mother of ten year old Nicole, loves pasta and dreams of owning a Lamborghini Countach. She is a big fan of Emerson Fittipaldi and spends her free time at the shore on her Water Craft Wave Runner. Jennifer really knows how to make waves.

Jennifer's Schedule

Racing images of Jennifer

Distant Thunder