ThunderValley's
Driver of the Month for June 1996

Lisa Devlin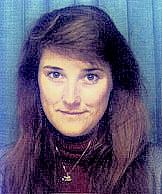 Dr. Lisa Devlin always thought racing and driving on a real race track was for an elite few with highly prepared cars. It was when she joined the Pantera and Shelby Car Clubs that she found out it was not. Open tracking with the clubs gave her the opportunity to drive her street car on a real race track at speed. It was also a great way to learn and refine performance driving skills that are beneficial both on and off the track. Lisa was 25 when she took her first track excursion at Laguna Seca in August 1989 and was immediately hooked. Since that time, she has driven several different track cars before settling in with an 87 Mustang GT, her daily driver, and an 82 RX7, her competition car.
The Shelby Club and the SCCA afforded Lisa the opportunity to become involved in other aspects of the track. She has been active in the Nor Cal Shelby Club's annual "Mini-Nationals" convention, volunteering in the capacity of Car Show Chairperson and Registration Chairperson. With the SCCA, she is involved with Timing & Scoring.
Real Racing
Her competitive spirit naturally led Lisa to racing. A driving style that combines smoothness, consistency, and the ability to quickly pick out a line has made her a competitor to be reckoned with. With the 87 Mustang GT, she competed regularly in autocross during 1991, and frequently came in first.
Lisa has been driving the Hillclimb at Virginia City since 1990. This is a friendly, timed event, hosted annually by the Ferrari Club of America. Over the last six years, she has steadily improved her run times. For the past three years, she has been the top female driver and is recognized as one of the top drivers overall.
After watching a friend compete in the RDC four hour Enduro at Sears Point in `94 she discovered that what she drove wasn't nearly as important as just getting out there and doing it. In 1995, Lisa made the decision to go into wheel-to-wheel road racing competition. She bought an 82 RX7 with a blown motor. From November 95 to March 96, she and her boyfriend spent long hours in the garage transforming the street car into something safe for the track. The car and the team REAL RACING debuted at the San Francisco Region SCCA Driver's School in March 96 with not much more than the required safety equipment. Modifications have been added with each race, and the RX7 continues to progress into an increasingly competitive race car.
Race Schedule
With the RX7, Lisa intends to follow the 1996 San Francisco Region SCCA Regional Road Race Schedule as much as her time and budget will allow. Primarily the 1996 season will be for gaining seat time and finishing construction of the car. The season will be topped off by competing in the RDC Enduro for the first time. In 1997, she plans to campaign the RX7 for a full season with SCCA.
The Mustang will only see the track at Nor Cal SCCA's Mini-Nats over Labor Day weekend and with the Ferrari Club of America's Hillclimb at Virginia City in Nevada.
The Major Sponsor - Dr. Lisa Devlin
Off the track, Lisa is a Certified Chiropractic Sports Practitioner in private practice in Mountain View, California. As a business owner, she feels it is important to take an active role in the community. She participates in many areas of the Mountain View Chamber of Commerce as a volunteer, and she organizes two food drives each year at her office to benefit the local Community Services Agency.
Balancing her professional career, community service and racing schedule requires Lisa to keep in shape. She cycles, lifts weights, and practices Martial Arts to maintain her endurance, concentration, and keep her reflexes sharp.

Racing images of Lisa

Distant Thunder