ThunderValley's
Driver of the Month for December 1996

Christine Karns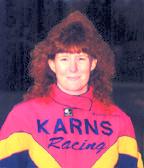 Christine Karns got her start in racing when she was seventeen years old. Her dad, George Karns, had put off his go-kart and drag racing career to raise his two daughters. Then, four years after his divorce, he and Christine joined forces to re-enter the world of racing. They purchased a Micro Sprint car in 1990 and campaigned it for five seasons.
Micro Sprints are a smaller version of Sprint Cars, weigh about 500 pounds and produce ninety horsepower (compared to the eight hundred horsepower of a full size Sprint Car). In their first season, with Christine as driver, they finished in the top ten in points at the Trail-way Speedway in Hanover, PA. In 1992 and 1993, Christine again finished in the top ten at Trail-way. She also finished in the top ten at Hill Valley Speedway in Huntingdon County, PA.
In 1992 and 1993, they campaigned their Micro Sprint at Path Valley in Spring Run, PA, Clyde Martin Memorial Speedway in Ephrata, PA, and Linda's Speedway near Lebanon, PA. Each track was different and Christine's learning curve climbed rapidly.
In 1994, her success continued. Early in the season she had a number of top five finishes in the feature races at Trail-way. Later, she and her dad moved their Friday Night racing program to Linda's Speedway, where she finished in the top five four times and the top ten four more times.
Before the beginning of the 1995 campaign, she and her dad sold the Micro Sprint and made the jump to full size Sprint Cars. On April 29, 1995, Christine ran her first race at Port Royal Speedway in Port Royal, PA, in her new eight hundred horse Sprint Car.
Their goal was to finish as many races as possible. With limited financial backing, it was important to bring the race car home in good condition, rather than dice for a better finish. Christine's learning curve continued upward. Her first top ten finish came on August 10, 1995 (after four eleven place finishes).
In 1996, she was able to compete in eleven races in the Super Sprint Car Competition. While their limited budget precluded a full season, Christine managed to become the fourth woman to qualify with the `World of Outlaws' in her first `Outlaws' appearance at Hagerstown Speedway. She finished sixth at Selinsgrove Speedway in Selinsgrove, PA. During the year, she raced at five different speedways in three states.
Her plans for 1997 are well under way. She and her dad will freshen their Gambler Chassis in preparation for racing. Before the season begins, she will participate in the largest motorsports extravaganza on the East coast, the Twelfth Annual Miller Motorsports exposition, at the Fort Washing Expo Center in Fort Washington, PA. Her car will also be displayed at the York County Racing Club Show and the Reading Fairgrounds Mall race car display.
When the weather breaks and racing resumes, she and her dad are planning to return to the Saturday Night program at the Port Royal Speedway. She will also race at Williams Grove, Selinsgrove, Susquehanna, Grandview and Bridgeport.
Once again, of course, she will compete with the `World of Outlaws' at Hagerstown. Christine is moving in a world of raw power and courage. She's showing the strength of will, determination, and skill that produces champions.

Racing images of Christine

Distant Thunder