The Sweetest Spot
Editor's Notebook, July 2000
Susan and I took a four day weekend at the end of June and visited Thunder Valley, the sweetest spot on Earth. To my non-racing friends (I do have a few), I say that Thunder Valley is a quiet little tree-shaded rolling glen in the Kettle Moraine area of Wisconsin, with a ribbon of road running through it.
I tell them that I sit for hours and watch the leaves rustle and spy on small woodland creatures as they make their homes in the underbrush. Every once in a while I see a deer gazing at me through the foliage or hear the distant whistle of a freight train as it passes, unseen, beyond the hillside.
To my racing friends, I tell them that Thunder Valley is the up-hill portion of the Road America race track just beyond Canada Corner (Turn 12) and before the Billy Mitchell Bridge (Turn 13). The quiet of the moment in Thunder Valley is broken frequently by the anticipatory whining of race engines in the distance as a herd of thundering machines flies through The Kink (Turn 11) and accelerates along the long back straight before diving into the hard-braking right-hander of Canada.
The lead car comes into view. I am overwhelmed by the sight, sound, smell, and 'feel' of racing machines blasting in anger through the twists of Thunder Valley and upwards toward the concrete abutments of the Billy Mitchell Bridge.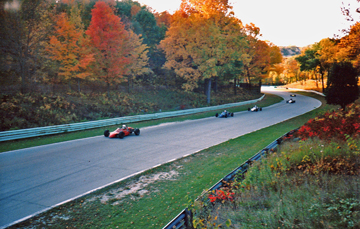 Thunder Valley, with your humble correspondent leading a pack well behind the race leaders...
Then they are gone, and Thunder Valley settles into its quiet pace once more, waiting for the onslaught of the next lap. It is this juxtaposition of the contemplative in nature and the exuberance of the expression of human potential that makes Thunder Valley so very special to me.
We need, all of us, times and places in our lives to sit in quiet communion with ourselves, with our fellow creatures, and with our thoughts. We also need, I believe, to set before ourselves a goal, a challenge, a prize towards which we struggle.
Race car drivers find a quiet place deep within themselves just before a race and they carry that quiet place with them as a talisman, as a sense of who they are, while their car dances on the edge of control and their world is reduced to the next corner and the chaos of the machinery operating within inches of their wheels.
So, that's my Thunder Valley. I'm sure you have yours. This virtual, Internet-based Thunder Valley, with its Pits, VIP Tent, Drivers' Trailer, and Press Box, and with its newsletter Distant Thunder that you are now reading, is a Thunder Valley for all of us to share. It's a quiet spot on the Internet with the anticipatory whining of race engines never far off.